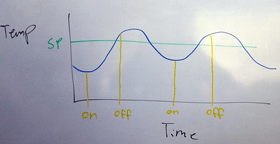 OptoForum member tohox recently posted a question about using PID control loops on a SNAP-PAC-R1 rack-mounted controller.
The issue? A really long dead loop time.
"The time delta between the moment the strategy opens a given loop's valve [and] starts the pump+furnace and the moment a temperature increase is measured can sometimes be on the order of an hour," tohox notes.