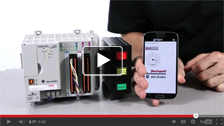 Do you have an Allen-Bradley® PLC? Would you like to monitor or even control parts of your system with your smartphone or tablet?
Our video groov your A-B shows you how easy it is to do exactly that.
Opto 22 engineer Ben Orchard steps you through it:
Import tags from your A-B PLC to the tag server.
Import tags to groov.
Attach tags to gadgets.
How does it work? Since groov is an OPC-UA client, it can talk to any system connected to a communications platform like KEPServerEX, which acts as the tag server.
Watch the video, and then download your free trial of groov Server for Windows and try it for yourself.
(If you don't already have a tag server, you can also get a free trial of KEPServerEX.)
Watch the groov your Allen-Bradley video.
Get the groov free trial.
All logos and product names used herein are trademarks or registered trademarks of their respective companies or organizations. groov is a product from Opto 22 and is not related to nor endorsed by Rockwell Automation.