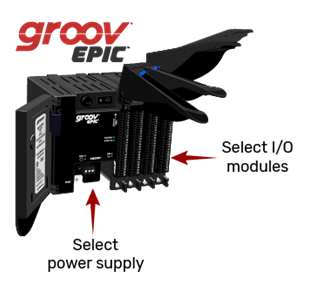 Take advantage of the groov EPIC Configurator and groov RIO Explorer tools on the Opto 22 website.
If you're considering the groov EPIC edge controller or groov RIO edge I/O modules for your projects, check out the online tools on our website that help you design these systems. You'll be able to view all the components that make up the system and select the ones you need for your specific application.
In the interactive groov EPIC Configurator, you click and choose components like processors, power supplies, I/O modules, and signals, so you can start building your system online.
In the groov RIO Explorer, you can select each of the software-configurable I/O channels to see all the various I/O signals types available, so you can determine if groov RIO is right for your remote I/O needs.
You can even send your selections to Opto 22 application engineers for review. They can review your design with you to make sure you're meeting all the requirements for your project. Does this sound like a helpful resource you'd like to learn more about?