Take advantage of the groov EPIC Configurator and groov RIO Explorer tools on the Opto 22 website.
If you're considering the groov EPIC edge controller or groov RIO edge I/O modules for your projects, check out the online tools on our website that help you design these systems. You'll be able to view all the components that make up the system and select the ones you need for your specific application.
In the interactive groov EPIC Configurator, you click and choose components like processors, power supplies, I/O modules, and signals, so you can start building your system online.
In the groov RIO Explorer, you can select each of the software-configurable I/O channels to see all the various I/O signals types available, so you can determine if groov RIO is right for your remote I/O needs.
You can even send your selections to Opto 22 application engineers for review. They can review your design with you to make sure you're meeting all the requirements for your project. Does this sound like a helpful resource you'd like to learn more about?
Let's take a closer look at each of these interactive building tools.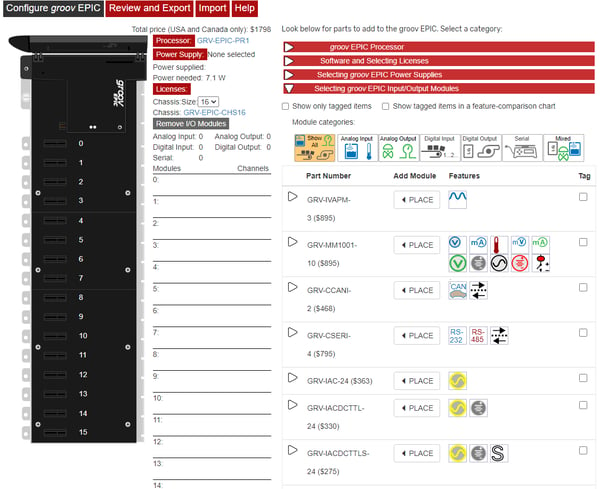 To build a groov EPIC system, start by clicking the drop-down arrow to see processor options. Next, you can use the dropdown arrows for software and licensing, power supplies, and finally I/O modules.
All options in each category come with detailed descriptions to help you make your selection. You'll see a HELP tab at the top of the EPIC Configurator that can assist if you have questions about a section of the demo.
Other tabs allow you to import a parts list to populate the configurator. Or take the system you've designed, export it for review, and send it to our pre-sales engineering team.
Here's a quick overview of how the EPIC configurator works: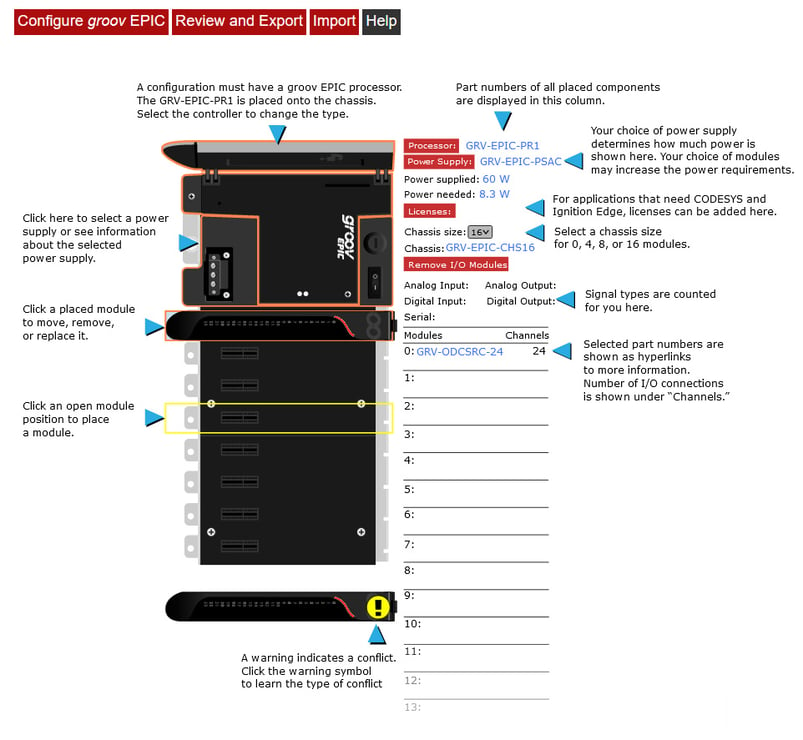 So give it try and start building your groov EPIC system today!
Are you looking for PoE-powered edge I/O for IIoT and automation projects? With groov RIO universal I/O, one part number can provide you with so many signal options! The groov RIO Explorer tool is designed to help you select the I/O signals you need, so you can see all your options and a complete wiring diagram before you buy.
This explorer tool covers only groov RIO models GRV-R7-MM1001-10 and GRV-R7-MM2001-10. For power and energy monitoring, see the product page for GRV-R7-I1VAPM-3.
Try it now! In the first tab, you explore and place your signal connections; then in the second tab, you can see the wiring diagram based on the signals you've chosen.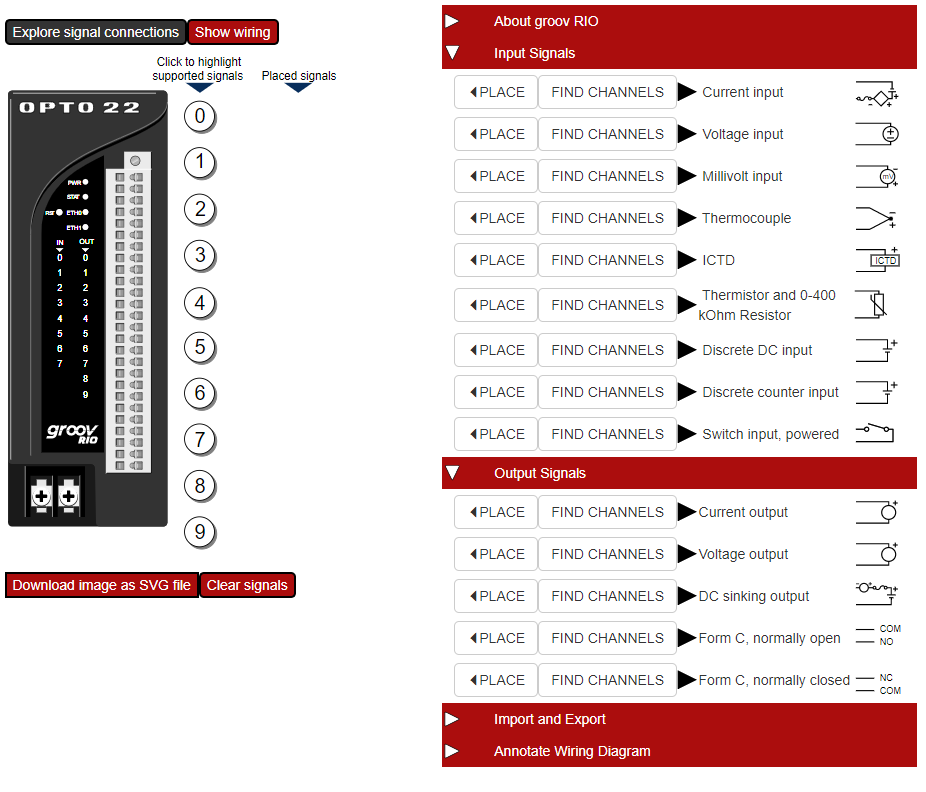 We hope you enjoy these interactive website tools and refer back to them as needed. Contact our engineering team with any questions you have about the system you're designing. We're here to help!