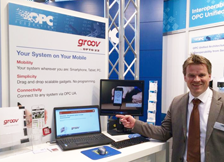 More than 180,000 visitors from over 100 nations came to Hannover Messe 2014 to explore the future of industry at the world's leading industrial tradeshow—and to see groov, Opto 22's tool for easily building and viewing your automation system on your mobile device.
With the theme of Integrated Industry – Next Steps, this year's trade fair focused on methods and products for intelligent, self-organizing factories—often called Industry 4.0.
Opto 22's Gerhard Kreiling demonstrated groov to an interested stream of engineers, technicians, and executives.
Attendees in Hannover heard a wide variety of speakers from companies, institutions, and countries around the globe and saw the latest factory and energy technology from 5,000 exhibitors. Exhibitors included industrial automation, energy and environmental engineering, industrial subcontracting, and research & development organizations.
Read about groov at Hannover Messe.
Missed this year? Put it on your calendar for 2015. The next Hannover Messe will be 13 to 17 April 2015.