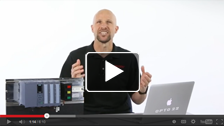 Do you have a Siemens® PLC system? If you do, take a look at our latest video: groov your Siemens.
The video shows just how easy it is to build an operator interface to monitor or even control your Siemens equipment from your smartphone, tablet, or computer. It's Your system on your mobile™.
Opto 22 engineer Ben Orchard walks you through the setup in three steps:
Add tags from Siemens controller to the tag server.
Import tags to groov.
Attach tags to gadgets.
Watch the video, and then download your free trial of groov Server for Windows and try it for yourself.
Watch the groov your Siemens video.
Get the groov free trial.
All logos and product names used herein are trademarks or registered trademarks of their respective companies or organizations. groov is a product from Opto 22 and is not related to nor endorsed by Siemens.