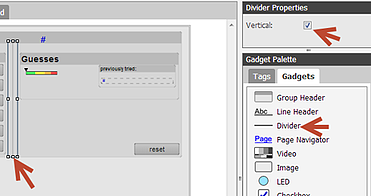 A recent OptoForum post (in the groov forum, of course) talks about two new gadget improvements in groov 2: a new feature for an existing gadget and a new gadget.
The new feature is a Vertical option for the Divider gadget, so you can group elements in your operator interface by separating ones next to each other as well as ones above and below each other.
The vertical option is especially useful on tablets or computers, where you have more screen real estate across the page.
The new Value gadget streamlines interface development when all you need is a simple value displayed on the screen. It defaults to a standard two decimal places, so all you have to do is add a label and tag it.
For more about these gadget improvments—and arguments about why we're sure the Value gadget won't completely replace the Text Area gadget—see the Also New in groov 2 OptoForum post.
Already have groov? Upgrade to groov 2.
Haven't tried groov yet? Get your groov free trial.