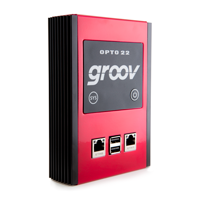 We're delighted to announce the second-generation groov Box, GROOV-AR1. With solid-state fanless operation, a tiny footprint, and operating temperature of 0 to 70 °C (32 to 158° F), the new groov Box hosts the same easy-to-use groov software.
With groov you can build mobile operator interfaces for just about any automation system and securely use them on virtually any smartphone or tablet.
It's the mobile app you build yourself, without programming or coding.
The new GROOV-AR1 boasts high-performance quad-core processing, gigabit Ethernet interfaces, and USB expansion for wireless LAN interfaces.
At just 4.2 x 6.8 x 1.4 inches (106 x 171 x 33 mm), the compact size and rugged design of the groov Box make it perfectly suited for use by OEMs, in machine design, and in harsh industrial environments.
Learn more about the GROOV-AR1: