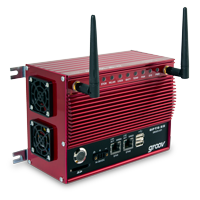 If you have a groov Box (part number GROOV-AT1), be sure to install these updates. We've fixed some important issues, and you'll want to have the latest groov software.
First step is to activate your Box if you haven't already. You have to activate in order to get updates. Just go to activate.groov.com and follow instructions. Once you've activated, click the Get Updates button.
If you've already activated your groov Box, go to manage.groov.com and log in. Next to your groov, click "Show" in the Updates column.
The top two updates in the list are the ones you want: groov Admin and groov App. Download both and then follow steps in the groov Box User's Guide (Chapter 4) to install them.
Questions? Contact Opto 22 Product Support.