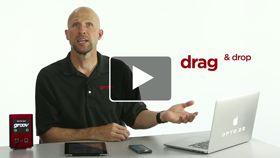 You've heard us talk about how you can control your system on your mobile with groov.
"Your system" means any industrial automation, building automation, or other system that talks OPC UA. (Check out the list of compatible systems.)
"Your mobile" means any smartphone or tablet with a modern web browser. (See compatible devices.)
Why this flexibility? Because groov is based on the automation standard for interoperability (OPC UA), and on Internet standards for web browsers (like SVG and HTML5).
So one of the really cool things about this is that you can mix indicators and controls from different automation systems on the SAME screen.
Instead of having an app for GE and an app for Rockwell Automation and an app for Opto 22, you can build—yes—one groov app to rule them all. If you want to put indicators for GE data and Rockwell variables and SNAP I/O on the same screen—maybe because they're all involved in the same process or are all KPIs—you can do exactly that.
Our new Mobile Made Simple video shows just how easy it is. Ben quickly builds a simple interface that includes both a control tag from an Opto 22 controller and an indicator from an Allen-Bradley CompactLogix PLC.
With no programming and no coding, you can be managing your systems exactly the way you want to, before you know it.
All logos and product names used herein are trademarks or registered trademarks of their respective companies or organizations. groov is a product from Opto 22 and is not related to nor endorsed by Rockwell Automation nor other companies mentioned.