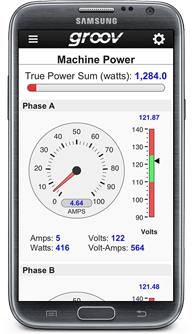 Want to run your groov mobile interface in an app instead of a browser? Our new groov app technical note gives you quick-start steps for setting up your groov View mobile app.
You see, you can use a groov mobile operator interface in two ways: through your web browser, or through the groov View app for Android or iOS.
The browser advantage: your interface runs on any brand mobile device with a modern web browser.
The app advantage: your groov interface appears full screen to keep you focused on what you're monitoring or controlling.
The app is especially convenient if you have more than one groov, because you can see them all in the app without having to type in a new URL and log in for each one.
If you want, you can designate one groov to always appear first. Then you can easily switch to another one in your list.
To get the free groov View app, go to your app store. Use the links below or search for "groov View."
Get started quickly with the Setting Up groov Mobile Apps Technical Note.