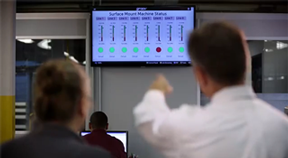 People get excited about groov because they can monitor and control automation systems and equipment from their smartphones.
And it's true, groov makes it simple to build your own mobile app for just the equipment and systems you want to see.
But since groov pages scale so well, some people use them on larger screens, too—not just on tablets and phones but on PCs and large TVs. A web-enabled TV can clearly show key performance indicators, system status, and problems in a factory or control room.
What if you want to show more than one groov page on a TV, though?
You can't touch the big screen to switch pages. But you can put two or more pages on an automatic loop.
Let's say you have three pages of your groov project you want to cycle through automatically. Because groov runs in any modern web browser, you can use a browser plugin or add-on like this free one for Chrome called Revolver - Tabs. (This example is for Chrome, but similar plugins or add-ons are available for other browsers.)

Once you've installed the plugin, you can click its icon (shown at right) and the browser tabs you have open will automatically begin cycling.
Here's how to make this work with your groov project.
Build your pages in groov Build.
Switch to groov View in your browser. Open a separate tab for each page you want to see.
Click the plugin icon. The tabs begin to cycle.
To adjust the cycle, first click the icon again to stop rotation, and then right-click the icon and choose Options. Enter the number of seconds you want the pages to be visible, and click Save.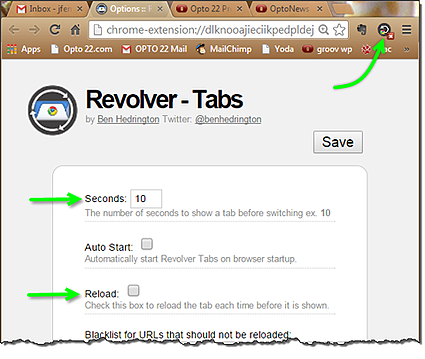 We also recommend unchecking Reload, so that each page is not reloaded every time it switches. Reloading slows down the action and usually isn't required.
Would you like to see this tip in a video?