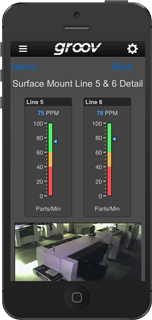 Got the groov View app for your iOS or Android device? If so, be sure to get the latest update. Here are some new features you might have missed.
When you're looking at your groov interface, swipe right to see a list of your groov connections. The active one is in green. It remains active, so you can just swipe back to view it again.
On the groov list page, you'll see a new Settings button in the upper left. It opens a Settings page with several options:
Set the connection timeout
Automatically open a default groov connection when the app is launched
Lock settings so that groov connections can't be added, changed, or deleted by someone else using your phone
Require a passcode to add, change, or delete connections
Hide the status bar (iOS only)
If you want to disconnect from the active connection, tap the connection in the list and choose Disconnect.
The groov View apps are optional apps you can download for free and use to see your groov operator interface on iOS or Android mobile devices. Using an app instead of a browser can help reduce distractions and keep focus on the interface.
To get the free updated groov View app, go to your app store. Use the links below or search for "groov View."
Get started quickly.