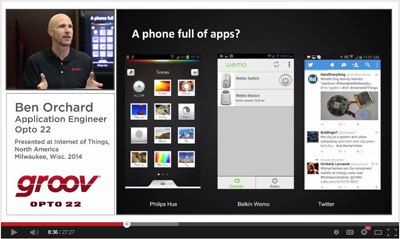 All this talk about the Internet of Things... but what does it really mean to you and me?
At the Internet of Things North America conference this week in Milwaukee, Wisconsin, Opto 22's Ben Orchard presented some new ideas on how we can approach these "smart" sensors and devices and equipment so they make sense for us.
Ben starts in his own geeky house, where his Philips hue lights, WeMo switches, and Twitter account (among other things) make up his own personal Internet of Things.
Key point here: his IoT is different from your IoT, which is different from mine.
Ben's lights and switches and data come from different manufacturers or services, each of which has kindly provided an app he can use to see and control them. The apps on his Android phone are of course somewhat different from those on his wife's iPhone or his son's tablet.
Switching between these apps is annoying for Ben and his family. And building and maintaining separate apps for all these devices is costly for manufacturers.
So...what's been missing in all the talk of an Internet of Things? Universal visualization: a universal app that Ben or you or I can use to control all our Things on our assorted mobile devices.
Watch the presentation and see Ben demonstrate how a modern web browser, already built into computers and mobile devices, can be that universal app—one that works for Ben's house plus an Allen-Bradley PLC, a SATEC power meter over Modbus/TCP, and a huge number of industrial control and building automation systems and equipment.
All logos and product names used herein are trademarks or registered trademarks of their respective companies or organizations. groov is a product from Opto 22 and is not related to nor endorsed by the companies mentioned.