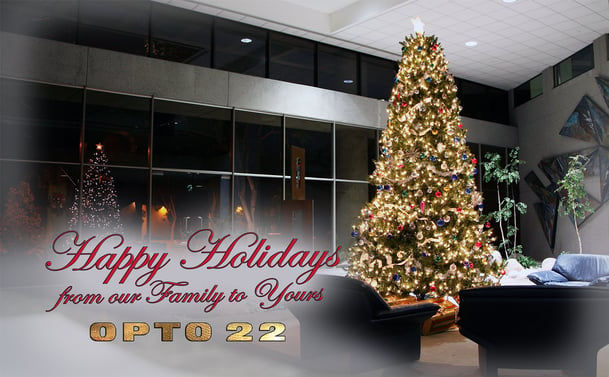 Wow, it's already the end of the year. The evenings are dark and the Christmas tree glistens in our lobby, as we look forward to the holidays with friends and family.
As usual, we'll be taking a couple of extra days around the holidays, so we want to make sure you can plan your calls and shipments. For 2017, here's our holiday schedule:
Thursday, Dec 21 - Open
Friday, Dec 22 - Closed
Monday, Dec 25 - Closed
Tuesday, Dec 26 - Open
Wednesday, Dec 27 - Open
Thursday, Dec 28 - Open. Last shipping day for 2017!
Friday, Dec 29 - Closed
Monday, Jan 1, 2018 - Closed
Tuesday, Jan 2 - Open. Shipping resumes.
And our thanks to you...
As we look to a new year with new products and new opportunities, we also think about the past. We've been manufacturing automation equipment for a good many years now—43, to be precise—and we know you rely on what we build.
You produce cars and beer and electricity; you clean our water and turn noxious fumes into valuable fuel; you keep us warm and our servers cool. We appreciate all you do every day, and we appreciate your interest in Opto 22 products to help your projects succeed and grow.
Thank you for your business!
Happy holidays to you and yours!
The Opto 22 team