Opto 22's groov EPIC took center stage at this year's tenth annual Ignition Community Conference (ICC X).
If you've attended an Ignition Community Conference (ICC) in the past, then you know the Build-a-Thon is one of the most highly anticipated and attended events during the two-day conference.
This year, instead of a single challenge demonstrated on the live event stage, Inductive Automation promoted the Build-a-Thon competition in the weeks leading up to the conference. Premier Ignition integrators were encouraged to compete by taking on a series of Ignition-based challenges, acquiring points on a leaderboard along the way. The top two point leaders—DMC and Roeslein & Associates—moved on to compete live on stage at this year's tenth annual ICC event
groov EPIC was also asked to be a part of this year's competition, and Opto 22 engineering and manufacturing staff proved they were up for the challenge! Watch the Build-a-Thon and see how the groov EPIC hardware panel played an important role in demonstrating innovative Ignition projects that helped determine this year's winner.
This year's challenge had some different guidelines: both teams had to begin their Build-a-Thon projects two days prior to the conference, using Ignition and a groov EPIC system. The teams were faced with building a real-world system in a matter of two days, and integrating it with real industrial processes.
The groov EPIC demo panel, designed, built, and controlled by Opto 22, was unveiled to kick off the Build-a-Thon. It included level sensors, pumps, valves, temperatures, and a water heater, and you'll see how both engineering teams designed and programmed systems to transfer and distribute water on the panel....a pretty colorful and fun sight to watch!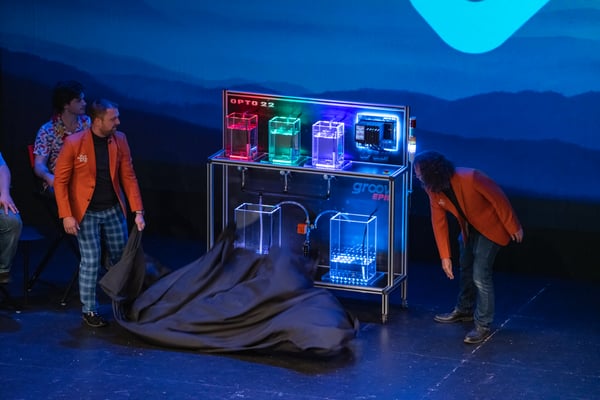 The video also documents how each team handled the challenges and stress of the two days leading up to the main ICC event, where they would demonstrate their projects in front of a live audience. It's an entertaining hour of engineering skill on display that's hosted by Inductive Automation's Kent Melville, along with the Build-a-Thon creators and original competitors, Travis Cox and Kevin McClusky.
Who will get to wear the coveted orange Ignition blazers? We promise, tuning in to the end to hear the winner declared will be worth the wait!
And we want to recognize and convey our sincerest appreciation to all the Opto engineers and manufacturing technicians who were involved in building a truly EPIC panel! Thank you to:
Project Manager:
Benson Hougland

Control System Design Engineer:
Garrick Reichert

CAD Design:
Terry Orchard

Manufacturing, Machine Shop, & Design Team:
Gary Cissell
Rob Schweidler
Kam Bounkhoune
Vilay Baramy
Vic Blakemore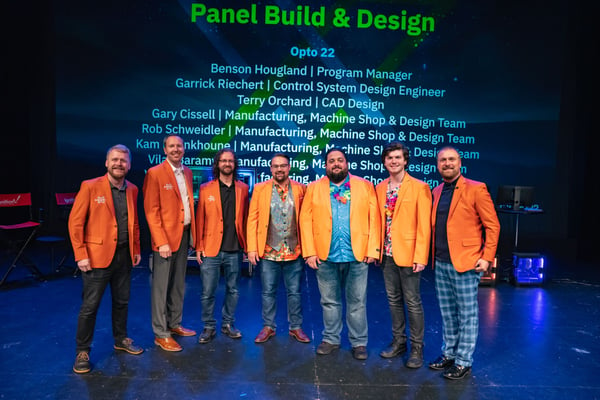 We're already looking forward to next year's ICC event!