Learn how tech-based company netDNA automates water management for fracking and water transfer with the help of groov EPIC.
In the oil and gas industry, technological advances like hydraulic fracturing (fracking) and horizontal drilling have caused a boom in exploration and drilling. The initial "gold rush" approach to oil and gas development focused on people resources, with most work done manually.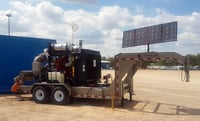 But now companies are looking to add automation in the field, especially for water pumping and treatment, key ingredients in successful unconventional oil and natural gas production. In an industry with remote, widely separated, and changeable operations, automation and data communications aren't easy.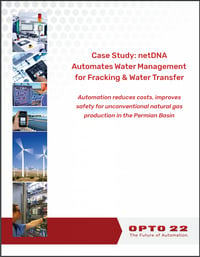 In this case study, read how netDNA automated their customer's trailer-based pumping units and provided data communications, using groov EPIC edge programmable industrial controllers and I/O, plus IIoT-friendly technologies like Node-RED and MQTT.