Control Engineering magazine recently announced the voting results of its annual Engineers' Choice Awards program.

We continue to appreciate the positive feedback and recognition the groov EPIC controller has received since its release. Opto 22 engineers are honored that groov EPIC has been named the Engineers' Choice Award winner in the Industrial Internet of Things connectivity category.
The 32nd annual Control Engineering Engineers' Choice Awards shines a light on 26 categories of control, instrumentation, and automation products, revealing the best of those introduced in 2018 as chosen by the Control Engineering print and digital audience.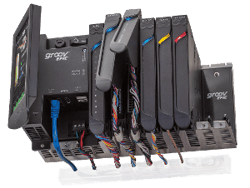 Thank you for your votes and continued interest in the groov EPIC system. The latest groov EPIC 1.3 release gives you even more programming options and capabilities for your automation and IIoT applications.
Questions? Our pre-sales engineering team is here to help:
Email systemseng@opto22.com or call 951-695-3000.