For the second year in a row, groov EPIC has been selected as a winner in
Control Engineering's Engineers' Choice Awards.

Our team of Opto engineers was thrilled to learn groov EPIC is once again the Engineers' Choice for IIoT edge controllers. groov EPIC was eligible and nominated to be a repeat contender this year because of the significant product updates and features added in 2019, including IEC 61131-3 programming support.
Voting for the 2020 Engineers' Choice awards opened in October 2019 to Control Engineering subscribers, representing over 70,000 engineers and engineering managers across two dozen industries. groov EPIC was one of 117 finalists over 29 categories ranging from hardware, IIoT, machine control, and motion control, to network integration, power, process control, safety and software.
Here's a quick recap of some of the notable EPIC features added this past year:
1 - Programming options now include IEC 61131-3 compliant languages like:
Function Block Diagram (FBD)
Structured Text (ST)
Sequential Function Charts (SFC)
Ladder Diagram (LD)
2 - For greater security in data communications, you can connect the GRV-EPIC-PR1 to a virtual private network (VPN), and configure the EPIC as a client to connect to an OpenVPN server.
3 - For Ignition users, you can choose Ignition or Ignition Edge platforms. Full Ignition gives you access to more Ignition modules, external access to the OPC UA server (no need for a PC!), scripting, and database support.
4 - Expanded HDMI monitor support works with several resistive touchscreens, including calibration capability.
5 - USB memory stick access for additional file storage.
6 - More custom SVG images and animations added to groov View using new Shape gadgets that dynamically change color and size based on connected data sources.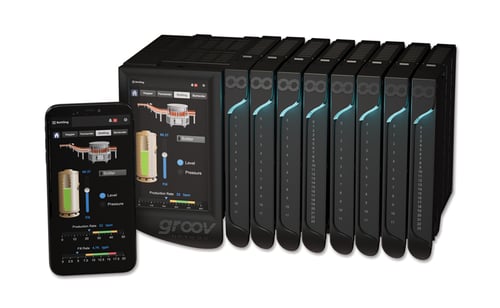 Thank you to all who voted and for making groov EPIC your choice for IIoT and automation applications.
Read the complete press release for award details.
Questions? Our pre-sales engineering team is here to help!