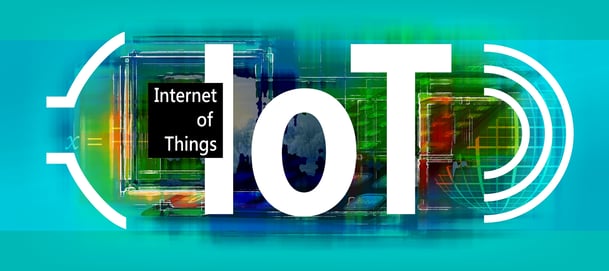 As noted in Opto 22's recent edge computing technology primer, one of the key problems currently facing the IIoT is Internet bandwidth limitations. We're talking about connecting billions of sensors to networks that were never designed to handle that kind of traffic.
I can remember the painful days of dial up Internet connectivity when millions of people started connecting their PCs to the Internet through tiny little phone lines, watching file transfers drag on and on for hours.
It was brutal.
Today we're about to face a similar problem. Only it's not just people that are going to be impacted—it's the billions of sensors we're planning to connect to the Internet and the cloud-based applications that are trying to get access to and make sense of those sensors' data.
As more data continues to pour in from ever-multiplying sensors and devices, many companies will struggle with sluggish networks as they attempt to send every bit of data to the cloud or data center for analysis.
These difficulties will be exacerbated by legacy industrial automation or OT (operations technology) equipment with varying protocols. This equipment was never designed for basic information sharing over Internet connections, not to mention the risks associated with cyberattack and data loss.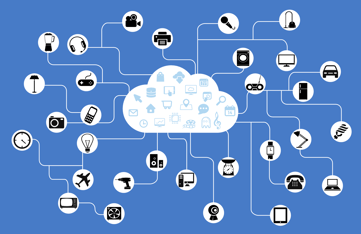 Real-world electrical signals from industrial automation and OT devices don't talk the language of computers.
Connecting industrial things to Information Technology (IT) systems, cloud software, and mobile devices takes an extra step—a step that Opto 22 and Dell take with ease.
Opto 22 recently joined the Dell IoT Solutions Partner Program. But what does that mean exactly?
Well, it means you can run Opto 22 software like groov on Dell's IoT Edge Gateway products. groov lets you build mobile operator interfaces for remote field sites or display KPIs throughout your factory or plant from Dell's industrially hardened edge gateways.
The Dell Edge Gateway is purpose-built for building and industrial automation applications. You can mount the Dell Edge Gateway 5000 on a wall or DIN rail at the edge of the network where your Opto 22 I/O lives, enabling you to collect, secure, analyze, and act on data from multiple disparate devices and sensors—even in extreme environments.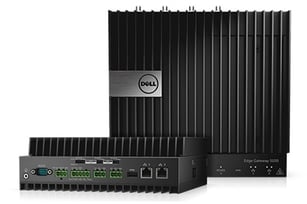 Powered by an Intel® Atom® processor, the Dell Edge Gateway 5000 Series has the capacity to perform analytics locally, close to the devices and sensors generating data.
That means it sends only meaningful data to the cloud or data center or to a master gateway—instead of gorging on bandwidth and wasting money transmitting every unprocessed data set.
With expanded I/O (input/output) and support for diverse communication protocols through certified independent software vendor (ISV) middleware, the Dell Edge Gateway can help you connect, extract, and analyze data from both your legacy and modern systems.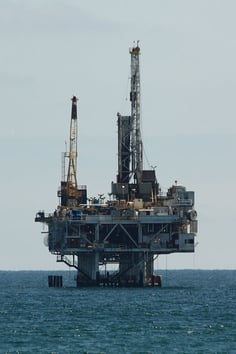 The Dell Edge Gateway hardware is designed to be a flexible platform for your IoT application, with a fanless design and DIN-rail mounting. It's fit for industrial conditions, including 24x7 duty cycles and long life.
It has a ton of peripheral interfaces to fit whatever your application requirements might be:
Dual independent gigabit Ethernet (2 x RJ-45), 2 USB2 and 1 USB3 interfaces

An RS-232 serial port, 2 RS-485 ports, and one RS-422/485

Optional CANbus card

802.11n

wireless networking support including WiFi, Bluetooth low energy, WWAN (3G or LTE)

Optional wireless mesh modules, including an IEEE 802.15.4 Zigbee/6LoWPAN combo module
One-size-fits-all architectures don't work for IoT solutions. That's why Dell IoT gateways give developers, partners, system integrators, and customers the options you need to securely connect any endpoint to the network and architect for analytics throughout your IoT ecosystem.
Analytics can be performed at the network edge, in the data center, or in the cloud.
Plus, by incorporating additional big data sources such as customer relationship management (CRM), enterprise resource planning (ERP), and social media, your IoT system can provide even richer insights, predictive modeling, and benchmarking.

Using Opto 22's distributed I/O systems with edge computing processors like the Dell IoT Edge Gateway is the quickest path to IoT application development—and a good way to avoid those too-much-data-for-the-pipe slowdowns.
You can also use rapid application development tools like Node-RED and groov from Opto 22 to get you there faster. Find out more about these application development tools on the IoT Resources page.