Watch the recording of episode 8 of IntegrateLive! - as Opto 22 and Phoenix Contact connect their PLCs to web APIs to leverage data.
If you're not familiar with IntegrateLive! yet, we encourage you to check out this new online community. Jeff Knepper and Allen Ray created this platform to help all end users, manufacturers, and system integrators in the industrial automation space.
The importance of open source technologies working together is the foundation of IL and it celebrates "Co-op-etition"—which is what brought Opto 22 and Phoenix Contact together in this latest episode.
A few weeks ago when we promoted our participation in IntegrateLive!, it promised to deliver the PLCs of tomorrow. But good news—the future is now. Watch as Opto 22 and Phoenix Contact both present their edge solutions, groov EPIC and PLCnext, to leverage Node-RED to securely connect to web APIs and inject sustainability data into everyday control decisions.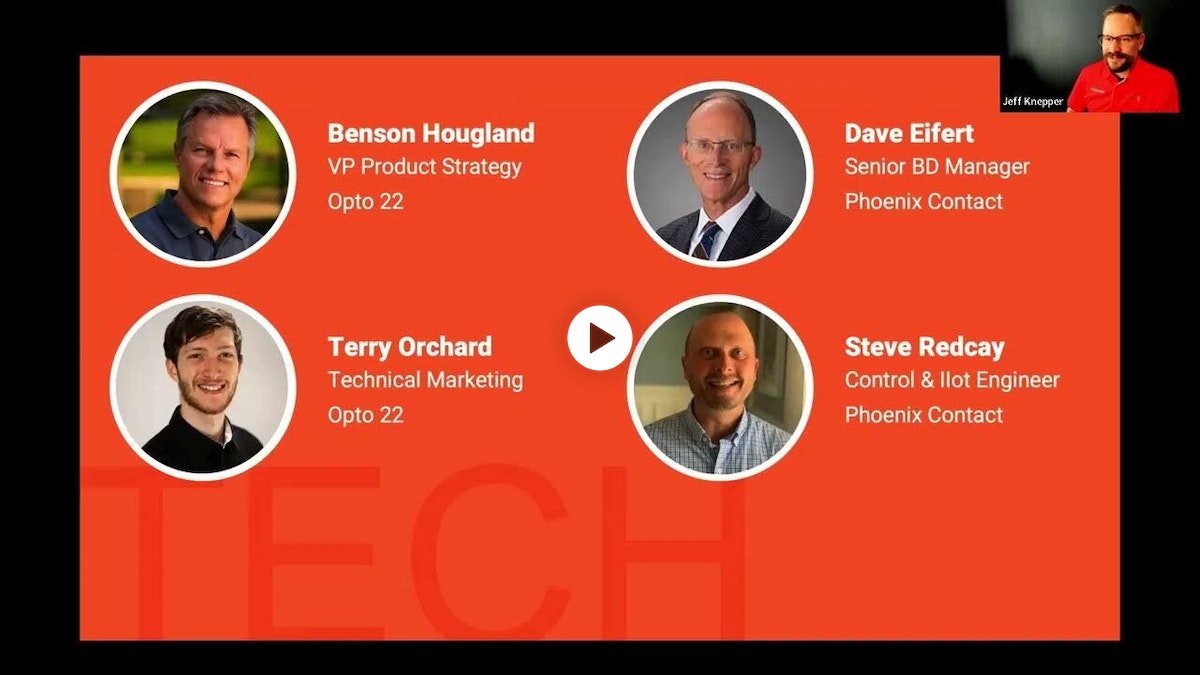 This 90 minute virtual workshop follows the typical IL format:
Identify the problem
Find real-time solutions
Display pricing
Answer questions
Episode 8 focuses on:
How can you securely access useful data (utility, weather, environmental) via web APIs to improve control processes?
And what are we doing to connect this data to sustainability efforts?
Both presentation teams review system architecture drawings and demonstrate their tools for easy-to-configure, web-based HMIs to help you visualize your data.
And don't forget about the Rundown!
Exactly one week after each workshop (in this case, November 2nd) a follow-up episode features the same panel of guests meeting for a recap and additional conversation...and you're invited to attend, too.
Catch the Rundown episodes on the IntegrateLive website for solution discussions, shared stories, and some entertaining dad jokes!
As always, thanks for watching.