New website resources include libraries of Scalable Vector Graphics (SVG) of groov EPIC and groov RIO products for use in Lucidchart.
A recent blog post sharing our Microsoft® Visio Stencil libraries proved to be very a popular and useful tool for our Opto 22 followers. So, we've added more website resources and options for helping you with your Opto 22 drawings and diagrams.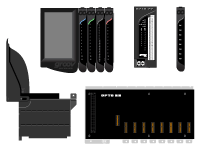 Anyone using Lucidchart? Lucidchart is a web-based proprietary platform that allows users to collaborate on drawing, revising and sharing charts and diagrams. We've taken it a step further and created SVG images of groov EPIC and groov RIO products to save you time.
As with Visio Stencils, Lucidchart images are useful for:
Capturing or updating reference drawings of an existing system architecture or network layout (for a customer or yourself)

Designing a new system or network for a presentation or design proposal

Mocking-up an HMI/operator interface
You can download these SVG libraries for free! You'll find image options for front, isometric and perspective product views. We've also included plenty of options for those of you using the SNAP PAC system.
Our Lucidchart website resource page also provides detailed instructions for how to import the SVG images into Lucidchart.
Start creating impressive charts and diagrams today!