See solutions from different vendors working together in the new Innovations Lab, and get your free pass to the Expo.
Join us in Houston for this year's ENTELEC Conference & Expo, May 9-11. Explore a complete edge solution for your project using Opto 22's groov EPIC and RIO products with the efficient MQTT Transmission module from Opto tech partner Cirrus Link Solutions.

The ENTELEC Conference brings together ENTELEC members who deliver compliance, efficiency, security, and innovation to the business units of energy companies such as petroleum, pipeline, natural gas, and electric utilities. Come see how energy companies gain value from telecom, information technology, the internet, digital transformation, IIoT, automation, cybersecurity, AI/ML, and computing from the edge to the cloud.


You'll have the chance to attend a variety of presentations covering case studies, panel discussions, and high-level keynotes. Speakers will address industry challenges, propose solutions that drive efficiency and productivity, introduce tactics to increase your bottom line, and discuss the ever-evolving role of technology in the energy industry.

And you'll see products and technologies from different vendors all working together in the new Innovations Lab—Innovation through Collaboration.

While you're exploring the ideal solution for your application, don't miss groov EPIC. You'll find Opto 22 and Cirrus Link in booths 520 and 522. Stop by for some cool demos and bring your questions! You'll learn best practices to achieve data mobility and the security required for today's industrial cyber environment.

And even better news...you can attend the Expo portion of the event for free! Just use VIP Pass Code: V!P23# when registering. (Note that VIP Exhibit Hall Passes are available only for industry operator companies and may not be used by non-exhibiting vendors, suppliers, or the general public.)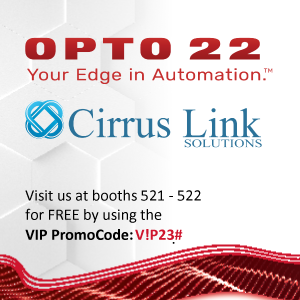 We're looking forward to seeing you there. Register to attend.
George R. Brown Convention Center | Hall D
1001 Avenida De Las Americas
Houston, Texas 77010
May 9 - 11, 2023