OptoPartner Advanced Control Solutions is co-hosting a virtual automation event.
Is your organization struggling with your automation solution decisions?
Then join OptoPartner ACS, Olympus Controls, and Gibson Engineering for the Applied Automation Virtual Solutions Day.
Opto 22's VP of Marketing and Product Strategy, Benson Hougland, will be the first featured speaker of the day and will demonstrate practical solutions for overcoming your automation, IIoT, and digital transformation challenges.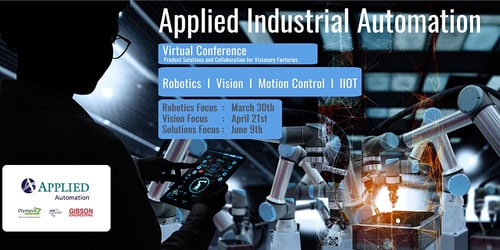 You'll also be able to visit with Dan White, our Southeast regional sales engineer, in the Opto 22 booth for help in designing a new solution or generating ideas for resolving a problem with your current system. It's also the place to see additional product demos of both of our flagship edge solutions: groov EPIC and groov RIO.
Throughout the rest of the conference, you'll hear knowledgeable speakers with exciting industry updates, as well as many solution presentations and demos for industrial automation and IoT applications.
Event Location:
Online Virtual Conference
June 9, 2021
9:00 am - 1:00 pm PDT
(12:00 pm - 4:00 pm EDT)
Event registration allows you to schedule one-on-one sessions with exhibitors in advance, so be sure to set up your meeting with Dan at the Opto 22 booth prior to the event to ensure your exclusive session.
After registering, please be on the lookout for an email from Applied Automation Virtual Event Series or noreply@swapcard.com. This email will provide you a link to access the event.
We hope to see you there!