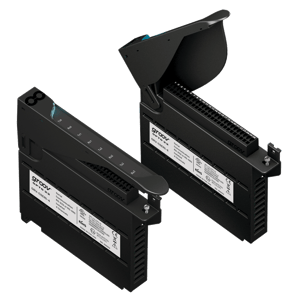 Opto 22 has just announced the release of the groov serial I/O module, GRV-CSERI-4. This module plugs into a groov EPIC chassis alongside groov EPIC analog and discrete I/O modules, allowing you the mix of signals you need at any location.
Many industrial automation applications require communication between the controller and multiple serial devices. This new module provides four independent and isolated serial ports for this purpose, communicating with RS-232 or RS-485 serial devices. Up to 4 GRV-CSERI-4 modules can be installed on any groov EPIC chassis, providing a total of 16 serial ports per system to support these communication requirements.
For serial devices communicating via standard protocols, the included PAC Control flowchart-based programming software offers communication handles to serial devices. For serial devices requiring the development of custom drivers, groov EPIC supports secure shell access, SDKs, and a cross-compiler for custom user-written applications.
The GRV-CSERI-4 I/O modules are also hot swappable—which means they can be installed or removed without turning off the unit or stopping control—and self-identifying; as soon as you mount the module on the chassis, it communicates to the processor and identifies itself.
To learn more about the new serial module, download the data sheet or read the complete press release.