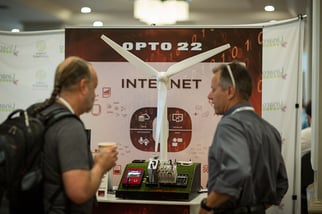 This week Opto 22 is exhibiting at the Open IoT Summit in Portland, Oregon. The IoT Summit is a Linux Foundation event, packed with a ton of technology workshops and product demos.
We also exhibited at the IoT Summit last year. It's a great chance to connect with the Linux developer community and get their perspective on things, since it's so much different from what a typical industrial automation professional is exposed to.
Comparing last year and this year, they've both been very interesting, but I've observed a pretty massive shift in the workshop topics this year. And I think that shift somewhat reflects the state of the Internet of Things in general.
Across many industries, vendors are beginning to adopt the idea that the core value of IoT technology can best be exploited, and the return on investment most easily attained, in the industrial markets.
To illustrate my point, I went back and looked at the agenda for the 2016 Open IoT Summit. Looking at the workshops, I noticed something interesting: not a single workshop title in 2016 mentioned the Industrial Internet of Things (IIoT). Or the word industrial at all. Not even my own workshop, which you can view at the link below.
Now I purposely left the word industrial out of my workshop title, and I see now that was a clear mistake. At the time I was trying to make sure I didn't discourage attendance by making the workshop sound like it was only for industrial professionals. Because we all know the Internet of Things is about connecting OT professionals, IT professionals, and the developer community, for the greater good of all humanity, right?
So it was interesting to see that this year's IoT Summit included several workshops specifically focused on industrial application needs. From a device, network, and protocol level, the Linux community is beginning to take up the challenges that specifically relate to industrial problems—for example, edge and fog computing.
And massive companies like Intel are presenting workshops that include common industrial terms like PLC and HMI—at an IoT summit, where we talk about Linux and stuff.
I sat through a workshop from Intel that talked a bit about the Iotivity Linux Foundation project. IoTivity is an open-source software framework that tries to enable "seamless device-to-device connectivity to address the emerging needs of the Internet of Things."

Now you might think to yourself, oh, great—another cloud platform that promises everything including time travel, as long as you have man-years' worth of developers to customize the application to fit your needs.
But the important thing here is that IT companies are finally starting to understand where high-value big data comes from: it's the stuff that's already installed and running out there on your plant floor. That's the massive brownfield opportunity that I think most companies have overlooked.
Facebook was also exhibiting at the show, actually at the booth right next to us. They were showing off their reference design for 100 GB Ethernet switches, a design they open-sourced. That basically means anyone can build them using the design Facebook put together.
Imagine having a large enough need for network gear (with incredibly high performance at rock-bottom prices) that you'd actually consider, let alone decide, to manufacture the gear yourself. Talk about cutting out the middleman.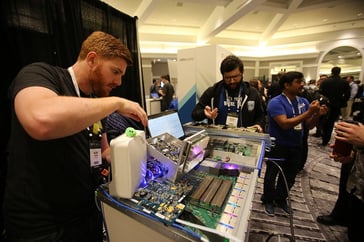 Think about how much networking gear Facebook requires to run their datacenters. And that's just to get people connected and talking to each other on the Internet.
Now think about how much networking infrastructure and how many datacenters we're going to need as we start connecting the billions of legacy industrial assets we've already got installed out there.
What kinds of implications will there be on how we design our industrial networks?
One company looking at that question is Midokura, a vendor focused on network virtualization solutions. They presented a case study on edge computing (read the Edge Computing Primer). The case study talked about how industrial networks need to prioritize data from high-priority assets and then automatically have the network deprioritize data when it's not needed.
Technology like this will be a key for IoT applications, as IT and OT end-to-end visibility from a network perspective becomes a common requirement.
But the most important theme from the week was that for IoT applications to be successful, they need to be based on open standards and specifications. For all of our things to start talking to each other as we build out the Internet of Things, we must define a common architecture and set of communication protocols, programming standards, and security practices.