What's new at Opto 22? We've had plenty to talk about this past month, so here's a recap of product, firmware, and software updates, as well as new groov I/O module releases!
Learn about new groov EPIC system capabilities, and make sure you are using the latest versions of firmware and software to optimize system performance.
New groov I/O modules available now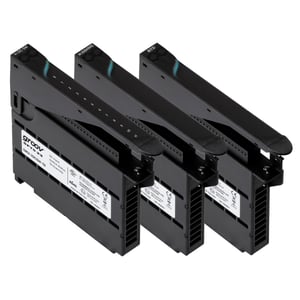 Three new groov I/O modules were released this week as we continue to expand the groov EPIC system to support your application requirements. These modules include designs for mixed signal types, signal isolation, channel density, and also meet precise requirements for temperature control.
Here's what you need to know:
GRV-IDCSW-12 (discrete input, 12 channels, DC contact switch status):
This module monitors the open/closed status of dry contact switches, and provides the necessary excitation voltage to power the circuit. It's ideal for monitoring distributed IT equipment, benchtop analyzers, motor run/stop relays, or any device that offers only a dry contact for status.
GRV-IVI-12 (analog voltage input, 12 channels, ±1.25 to ±160V, channel-to-channel isolation):
With 12 isolated channels, this module eliminates the need to segregate I/O signals over multiple modules, providing significant cost and space reduction for mixed voltage applications. It includes options for scaling, filtering, averaging and more.
GRV-IRTD-8 (analog input, 8 channels, temperature/RTD or resistor):
This module is commonly used for 3-wire RTD temperature inputs, but is also suited to high-resolution resistance measurements. Users can take advantage of multiple fixed ranges or one of two auto-ranging methods to simplify configuration.
Visit each product page above for specification tables or to download the data sheets.

Software Updates
The new groov I/O modules will also need the latest versions of PAC Project (R10.2004) or the Opto 22 Library Package for CODESYS (v1.0.2.0). Make sure you get these latest downloads.

If you have a groov Edge Appliance (GROOV-AR1-BASE) or use groov Server for Windows (GROOV-SVR-WIN-BASE), you'll want to take advantage of the latest groov View 4.1e update.

This simple software download improves groov View performance and includes important bug fixes for Command Button and LED gadgets. See the groov View Readme for a complete list of new features and fixes.

Firmware Update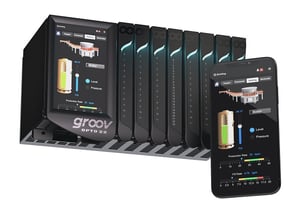 Firmware update 1.4.3 is now available for the groov EPIC processor, GRV-EPIC-PR1.
Here's a reminder of what you'll find in this latest groov EPIC update:
For greater security in data communications, you can now connect the

GRV-EPIC-PR1

to a virtual private network (VPN). Configure your EPIC as a client to connect to an

OpenVPN server.
New options let you configure

each network interface independently, for example for setting

the order of priority for backup gateways and DNS provisioning.
New networking features include diagnostic tools (ping, test tcp port, and more) to test internet connectivity in

groov

Manage.
For Ignition users, you can now choose Ignition or

Ignition Edge

platforms. The Opto 22 Ignition Edge license (GROOV-LIC-EDGE) works only with Ignition Edge. Contact

sales@opto22.com

for more details.
See the groov EPIC Readme for a complete list of new features and fixes included in Version 1.4.3.


Update today!
To access any of these updates, log into manage.groov.com. (Or log into your MyOpto account and click Manage groov in the navigation area on the left to see what updates are available.)