Firmware and software updates were released this month to help you get the most from your groov systems.
January 2021 started off with some important new releases from the Opto 22 engineering team. There are significant groov View updates that affect the groov family of products: groov EPIC, groov Box and groov Server for Windows. We've even updated the PAC Project software suite to version 10.3003. Here's a quick recap of what you need to know.
groov View 4.3a

If you use groov EPIC, the groov Box or groov Server for Windows, you'll want to hear about the latest release of groov View. Version 4.3a includes important fixes for logging events, video and LED gadgets and more, but also offers several new features:
Computed tags
Bit picking
Disabling device communication
Display trends of average/min/max
Using integers to control visibility of gadgets
See the groov View Readme for complete R4.3a release details. Visit manage.groov.com to get your update.


groov
EPIC 3.1
groov EPIC (GRV-EPIC-PR1) owners should get the latest groov EPIC 3.1 firmware update . Take advantage of the groov View 4.3a features listed above as well as significant fixes for PAC Control and CODESYS access to GRV-CCANI-2 modules.
Reference the groov EPIC Firmware Readme for more details. Log in to your MyOpto account or visit manage.groov.com to download your free version 3.1 upgrade today.


PAC Project 10.3003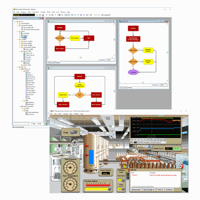 Finally, our PAC Project software suite also received some attention this month. Developer and IIoT ready, PAC Project software works with all groov EPIC processors and SNAP PAC controllers. A recent R10.3003 release gives you the following enhancements:
Configure thermistor and resistor inputs on any groov RIO with firmware 3.0 or higher
New digital module commands for PAC Control
Recalibrated and more accurate scan times
Ability to create custom curves for SNAP-AIR400K-8 modules
Download your copy of the PAC Project R10.3003 here. Access the PAC Project Readme for the complete list of enhancements and bug fixes.
Remember, PAC Project software is provided in two software suites: PAC Project Basic or PAC Project Professional. Use our website demo to review and determine if the Basic or Pro versions are what you need for your application.
Enjoy the updates!