Learn and experiment with your own updated groov EPIC Learning Center 2
The new groov EPIC Learning Center 2 is in production now—and it includes even more features and capabilities than the original! See what's included in the new GRV-EPIC-LC2, and be ready to take on your industrial automation and IIoT applications.
A complete package of fully functioning EPIC hardware and software, the groov EPIC Learning Center is designed as an integral part of our free OptoU Online Training at training.opto22.com.
So what's new this time around?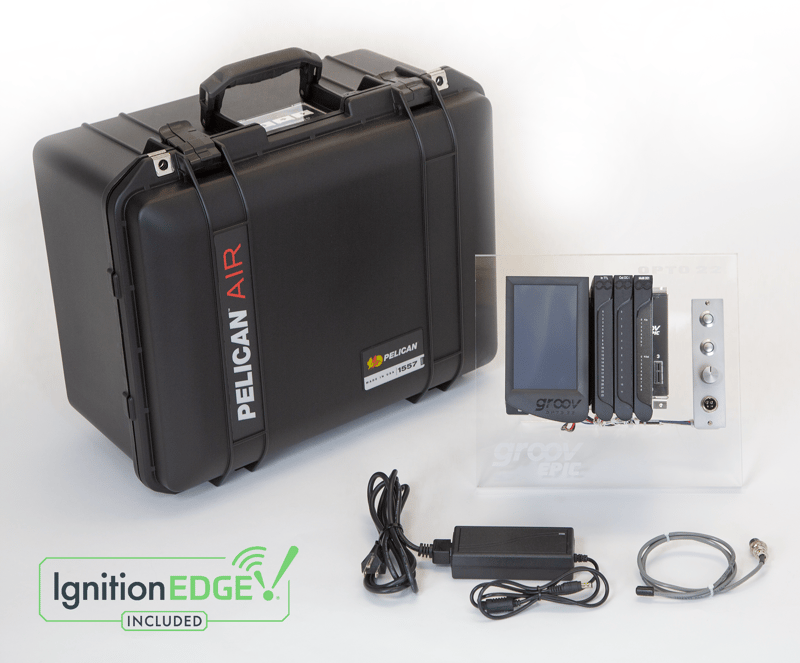 This latest version of the Learning Center now has a groov EPIC PR2 processor as well as a universal I/O module (GRV-MM1001-10). It's ideal for pilot projects, Proofs of Concept (POCs), demonstrations, or simply having a fully working system on your bench or desk for development. But it's also portable, with its custom-designed, durable carrying case.
With this learning center kit, you'll learn how to:
Set up and configure the

groov

EPIC processor and I/O
Develop control programs with multiple programming options
Create web-based, mobile-ready operator interfaces (HMIs)
Connect to existing PLCs
Exchange data with cloud services, databases, and other software
Take a look at what's included in the GRV-EPIC-LC2.
groov EPIC Parts
Mounted on a plexiglass stand with a load panel are:
• 1 groov EPIC processor, GRV-EPIC-PR2
• 1 power supply, GRV-EPIC-PSPT
• 1 DC input module, GRV-IACDCTTL-24
• 1 DC output module, GRV-ODCI-12
• 1 universal I/O module, GRV-MM1001-10
• 1 four-position chassis, GRV-EPIC-CHS4
The operator load panel includes:
• 2 illuminated push buttons
• 1 potentiometer
• 1 ICTD temperature probe with resistor
• 1 Sonalert alarm
• 3 Multi-color LEDs: red, blue, and green
Software on the GRV-EPIC-PR2
groov Manage—to configure, commission, and troubleshoot the processor
PAC Control Engine—a real-time control engine to run flowchart-based control programs
CODESYS Runtime Engine—a real-time control engine to run IEC-61131-3 compatible control programs
groov View—to build and view mobile and browser-based operator interfaces
Ignition Edge®—from Inductive Automation®, provides drivers to PLCs (development license included)
MQTT with Sparkplug—a secure, bi-directional, lightweight publish/subscribe protocol
Node-RED—an open-source, multi-platform IIoT tool to connect databases, cloud apps, and APIs
SSH—optional secure shell access to download and run your custom application written in languages like Python, C/C++, and others, on an open, Linux®-based automation system

Software for Control Programming and HMI Development
You can download these free software packages to your computer to develop flowchart-based or IEC-61131-3 compatible control programs, as well as HMIs:

PAC Control

—a flowchart-based industrial automation programming tool

CODESYS Development System

—a software platform for factory automation, providing IEC-61131-3 support

Opto 22 Library Package for CODESYS

—a library package to add to the CODESYS Development System


The estimated lead time for the GRV-EPIC-LC2 is 6-8 weeks. Contact pcs@opto22.com to get one on order and remember, it also includes free technical support from our Product Support team and free online training.