The 32nd annual Control Engineering Engineers' Choice Awards shined a light on 26 categories of control, instrumentation, and automation products, revealing the best of those introduced in 2018. Winners were voted on by the Control Engineering magazine print and digital audience. As announced earlier this year, Opto 22's groov EPIC was the award winner in the Industrial Internet of Things connectivity category.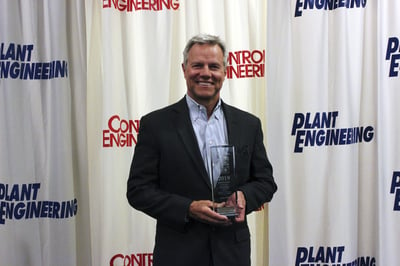 Opto 22's Vice President of Marketing & Product Strategy, Benson Hougland, was in Chicago this past week to attend the Engineering Awards in Manufacturing event and accept the award. This annual awards ceremony is hosted by CFE Media and recognizes all the product winners from its Engineers' Choice Awards program.
We continue to appreciate the positive feedback and recognition the groov EPIC system has received since its release. This award validates our belief in this EPIC technology and the advancements Opto 22 engineers are making as we continue to expand the groov EPIC system.
This is indeed the future of automation, and we are excited to be a part of it!

Looking for more EPIC resources?

You'll want to download a copy of the new white paper, Meet the Future: Edge Programmable Industrial Controllers.
Or if you have more questions about securing your systems, please review this technical note:
groov EPIC Security Design and Best Practices.
And of course our pre-sales engineering team is always ready to help.
Email systemseng@opto22.com or call 951-695-3000.
Keep calm and groov on!