New communication options arrive for groov RIO MM1 owners.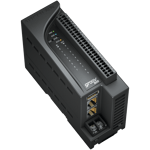 Opto engineers have released new firmware for groov RIO MM1 module (GRV-R7-MM1001-10), and it comes with some new features and enhancements worth talking about. Let's go over the 3.2 update highlights.
Want to include PID data in your MQTT messages? Now you can: PID public tags are now available in groov RIO's groov Manage application on the PID Configuration page.


Secure Shell users can now download packages for Wireguard–a free, open-source VPN tool–from Opto 22's repository. Search for the

kernel-module-wireguard

and

wireguard-tools

packages from the command line.


Node-RED has been updated to version 1.2.9, the latest version of this software available at build time.
Also included in this 3.2 firmware update are some important bug fixes dealing with LDAP server errors, custom configurations, and OptoMMP server resets.
You can get all the details from the groov RIO Firmware Readme.