Try out the beta version of the online system configurator to start designing your groov EPIC and RIO control systems together.
Have you tried out previous versions of the groov EPIC Configurator or groov RIO Explorer tools on our website? Customers, integrators, and our own Opto engineers regularly use these interactive resources for technical guidance.
Now the two groov configurators have been combined into one detailed online design system. Instead of planning your EPIC and RIO systems separately, you can plan them together. Configure groov EPICs (including processors, licenses, power supplies, I/O modules, and chassis), groov RIOs (all three types), and groov software in a complete system.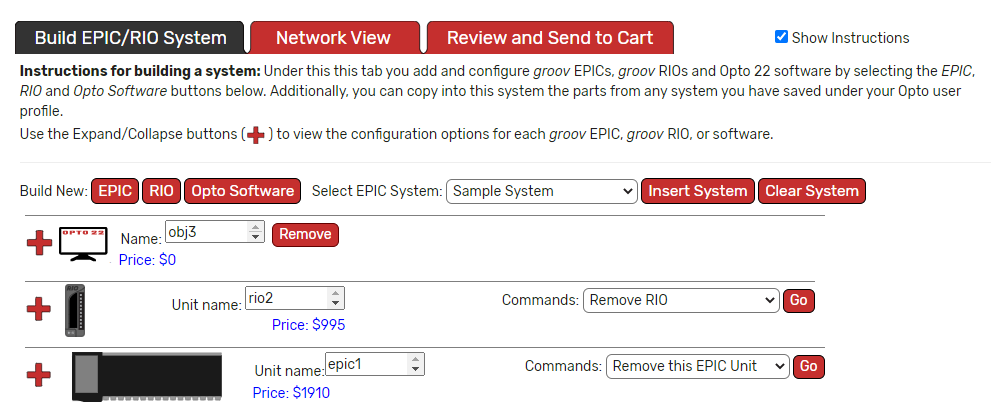 With this combined system, you'll notice several new features:
Configuring an EPIC offers a vertical or horizontal layout of the chassis; both layouts can be downloaded as scalable vector graphics.
A mini-version of the RIO explorer lets you explore signals and produce wiring diagrams, downloadable as scalable vector graphics.
A network diagram displays the Opto parts within a network infrastructure. Display the Opto hardware and software as you want in a network diagram and add notes to represent independent components in the network architecture.
Icons represent various types of applications (databases, Ignition Server, SCADA, ERP, etc.).
Included network components like connections, wireless connections, MQTT brokers, other manufacturers' controllers, and field devices can be associated with Opto and other I/O units.
A special network line shows when EPIC and RIO segmenting or port forwarding features are being used.
You can reuse saved systems in other configurations.
Any system can be used as a template for a new system.
Which brings us to the most important part...your newly created configurations can be saved to your MyOpto account and added to your cart!
You'll find a new Configurations management page in your user website profile that shows your saved configurations and options for sharing and managing them. You can edit, save, download, upload, and share a configuration. You can also send it to your cart, where you can review all parts and purchase specific units or the whole system.
Ready to give it a try? And since it's still considered a beta release, we welcome your feedback. If you have any questions, comments, or concerns, email us at webteam@opto22.com.
Have fun designing your new system!