A new webinar, hosted by Cirrus Link Solutions, explores the tools used to build an IIoT solution with Ignition and MQTT — both part of the groov EPIC system.
Virtual events have become a necessity in today's business environment, and you'll want to add this upcoming webinar to your schedule.
Has your company started its digital transformation? Do you have questions on how to take the next step?

With the growth of analytics and the benefits of harnessing data from OT, a common question is how best to implement an IIoT solution. Given the current industrial environment, companies are struggling with how to start the process of digital transformation in a cost-effective and scalable manner.
Presenter and President of Cirrus Link Solutions, Arlen Nipper (co-inventor of MQTT), will discuss best practices in using Ignition 8 (the latest software release from Inductive Automation) and MQTT for IIoT solutions. He will step through enabling OT edge connectivity, data standardization, and cloud services using the Cirrus Link MQTT modules and the Ignition 8 platform.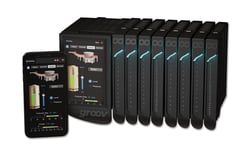 During the presentation, you'll also see how Opto 22's groov EPIC is a significant part of a secure edge hardware foundation.
Webinar Agenda:
• Components of the IIoT Solution
• Edge Connectivity, Security & Data Standardization
• Cloud Connectivity
• Ignition 8 New MQTT Features
• Sample Solution Architectures
• Q&A
We hope you'll be attending with us!
Webinar: How to Build IIoT Solutions with Ignition 8 and MQTT
Date: Wednesday, April 1, 2020
Time: 11:00 am - 12:00 pm CDT