Join Cirrus Link Solutions and Opto 22 for a new webinar highlighting advanced features of MQTT and Ignition 8.

You'll want to add this important webinar to your December events schedule. Arlen Nipper, co-inventor of MQTT and CTO of Cirrus Link Solutions, will once again be hosting an informative virtual event showcasing the latest features of MQTT and Ignition 8 software (the latest release from Inductive Automation). Opto 22's Benson Hougland will also be hosting and providing live product demonstrations of this new technology.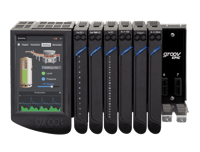 Opto 22's
groov EPIC
will provide a significant part of the secure edge hardware foundation that will be used throughout the presentation. Arlen and Benson

will discuss MQTT components with new advanced features opening up amazing applications and solutions with MQTT and Ignition 8. These features include sending video and jpg files over MQTT and publishing records of data as immutable objects. You'll be able to watch a product demo of these features in a live working application from a customer site.
We hope you can join us!
Webinar: Advanced Features of MQTT and Ignition 8
Date: Wednesday, December 16, 2020
Time: 11:00 am - 12:00 pm CST