New video workshop takes a closer look at the LED quality indicator on groov EPIC I/O modules.
Are you seeing a yellow light on one of your groov EPIC I/O modules? This means that one or more of its values is outside of the expected range. Opto 22 applications engineer Ben Orchard explains why this is important and how to use this feature in a video that's just been added to the groov EPIC hardware playlist.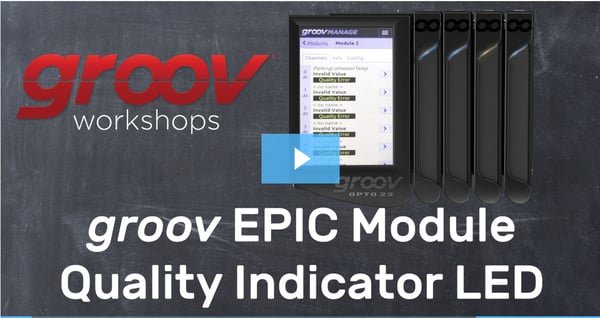 Watch and learn how it identifies deviation between reported and expected values like:
A failing temperature sensor probe
An analog output channel that has passed its limits
A load with an open circuit
See how these errors can be checked on the touchscreen of the groov EPIC or on any device with a web browser.
Note that not all groov I/O modules support the quality indicator feature. For an up-to-date list of modules that do, see page 301 of the PAC Control User's Guide.