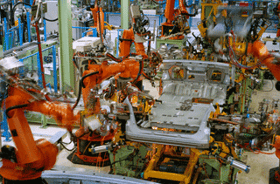 If you're a manufacturer interested in improving overall equipment effectiveness (OEE), you may find it difficult to integrate OEE with your manufacturing execution system (MES) or enterprise resource planning (ERP) system.
Why? Because the IT (information technology) software systems traditionally used for MES and ERP don't interface with the PLCs and I/O systems used in production and manufacturing.
Communication protocols are different; technologies are different.
But The Aquila Group, an IoT Certified OptoPartner, is using Industrial Internet of Things technology to knock down those barriers and build a bridge between IT and OT (operation technology) resources.
Their customers now have visible data for process improvement without disrupting current manufacturing, whether they are small manufacturers or large ones, like Eaton Electrical and Siemens.
Read how The Aquila Group integrates these systems and provides operators on the shop floor with visibility into real-time production statistics.
How could an IoT Certified OptoPartner help you?
IoT Certified OptoPartners are uniquely experienced and knowledgeable about both OT and IT systems. They can help you bridge the gap and bring your IoT project to reality.
What data do you need? Contact an Opto 22 IoT Certified OptoPartner and get started on your project.
These recently certified OptoPartners have been added to the worldwide list you can choose from: