Welcome two more companies to the OptoPartner program that have proven, cutting-edge IIoT product solutions.
Do you need help designing, installing, or updating your Opto 22 system? An OptoPartner can help. We have OptoPartners both internationally and throughout the United States that have proven track records of working with Opto 22 industrial control products (like the groov EPIC system).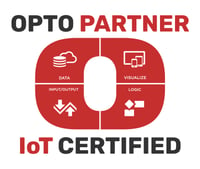 And for special projects that cross the line between OT and IT, contact one of our IoT Certified OptoPartners.
IoT Certified OptoPartners have:
Combined skills and experience in both Information Technology (IT) and automation (Operations Technology, OT)

Successfully developed IoT applications for other customers

Demonstrated to Opto 22 engineers that they can provide customers the ideal solutions for their IoT goals
Opto 22 recently welcomed two new IoT Certified OptoPartners to the program. Contact them if they are in your area, or see our full listing below.
Pieper Automation
(New Berlin, Wisconsin)

Pieper Automation serves as a turnkey automation controls partner to companies that are in need of innovative solutions, strategies & support and is a full solution & services provider for industrial design and integration of machines and systems, including process development and improvement, new equipment design and machine enhancement to help customers succeed in today's highly competitive global environment. Learn more about Pieper's product experience.
Leuze Electronic Ltda
(Sao Paulo, Brazil)

Established in Brazil in 1994, they are the local subsidiary of Leuze Electronic GmbH, founded in Owen, Germany (Stuttgart area) in 1963. Their business relies on their core competence of photoelectric technology, which allows for an extensive product portfolio in photoelectric sensors, workplace safety products and bar code readers. Leuze works directly with customers to help with the deployment of IT technologies on the manufacturing floor, without interference in legacy automation systems or data security.
Learn more about their application and industry experience.
We're excited to have these two successful companies on board the OptoPartner program and are confident their experience with the groov EPIC system can help with all your automation and IIoT needs.
See our complete listing of OptoPartners and find one in your area to help you get started with your next project or system upgrade.
Think you'd like to join the OptoPartner program? Get more details or send your inquiry to optopartner@opto22.com.