Opto 22 headquarters hosts the first groov EPIC Premium Factory Training class of 2023.
The much anticipated return of in-person, instructor-led training at the Opto 22 factory and headquarters became a reality this week! Hats off to the team of Opto trainers as well as the great group of 12 students who made the class a success.
Students traveled from all across the country to attend and spent 4 days immersed in the groov EPIC system—learning all its features, capabilities, and programming options.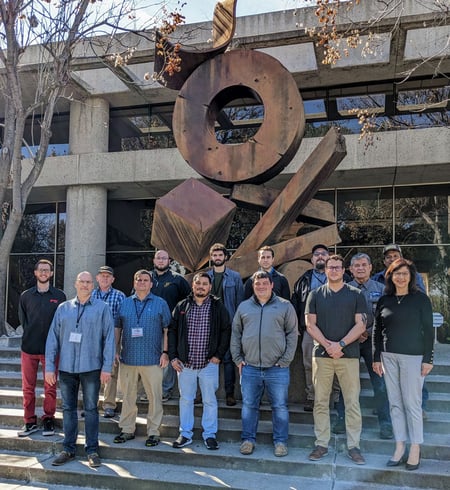 Thank you to our team of Opto 22 instructors who prepared and presented all the lessons:
Norma Rodriguez (Director of Training)
Ben Orchard (Senior Applications Engineer)
Garrick Reichert (Senior Applications Engineer)
Terry Orchard (Technical Content Marketing)
Will we see you in the Opto 22 classroom this year?

Take a look at the 2023 training class schedule, and register to attend one of the 8 remaining classes we're hosting in 2023.
Your four-day groov EPIC System Premium Factory Training includes:
Hands-on instruction for the groov

EPIC system (Edge

Programmable Industrial Controller). Just as the acronym describes, you will learn how to collect, process, view, and exchange data at the edge, explore new programming options, and use industrially hardened equipment to control applications in real time.
System components and configuration, networking capabilities, diagnostics, troubleshooting, and communication methods that you can apply to your industrial automation application to build solutions for the Industrial Internet of Things (IIoT).
Breakfast snacks and full lunch every day
Opto 22 T-shirt
Duffel bag with gifts inside
Prerequisites: Students must have a working knowledge of Microsoft Windows, but no prior Opto 22 knowledge is required.
Class starts with lunch on Monday at 12:00 noon and instruction starting at 1:00 p.m., through 5:00 p.m. On Tuesday and Wednesday, class starts promptly at 8:00 a.m. and ends at 5:00 p.m. Thursday's class starts at 8:00 a.m. and ends with lunch served at 12:00 p.m.
Each class is limited to 12 students and costs $995 per seat. See Class Details for the complete course description. Some course topics you can expect:
Select, install, and connect hardware and field devices
Initialize and configure the groov

EPIC processor
Create control programs and choose programming functions
Create HMIs
Collect data from cloud services, databases, and other PLCs
We hope to see you soon!