Tune in to the latest episode of the Manufacturing Hub Network podcast for an in-depth discussion on industrial cybersecurity.
Still learning the best ways to keep your industrial control systems secure and ready to defend against cyber attacks? October was ICS Cybersecurity month, and the hosts from the Manufacturing Hub Network podcast focused on it all month long.
Vlad Romanov and Dave Griffith welcomed back Opto 22's Benson Hougland to the podcast to wrap up their security series.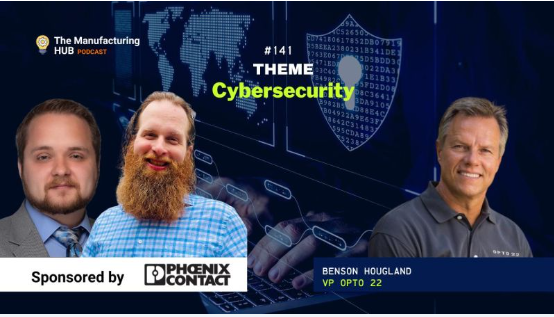 Listen in on their hour+ long discussion to discover tools, guidelines, and investment strategies to help you get started. Hear suggestions on technologies that are having the most impact (hint: MQTT).
As Benson states, "There is no destination in cybersecurity. It is an ongoing learning process."
You can watch the complete podcast on the Manufacturing Hub Network LinkedIn channel.