Welcome a new OptoPartner who brings proven, cutting-edge IIoT cloud solutions.
Do you need help designing, installing, or updating your Opto 22 system? An OptoPartner can help. We have OptoPartners both internationally and throughout the United States that have proven track records of working with Opto 22 industrial control products (like the groov EPIC system and groov RIO edge I/O).
And for special projects that cross the line between OT and IT, you can contact one of our IoT Certified OptoPartners. We recently welcomed a new partner with valuable IIoT experience: 4IR Solutions.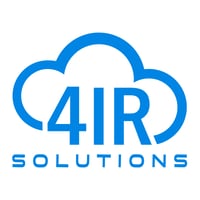 Based in Bethlehem, PA, but serving all of North America, 4IR Solutions offers a fully managed hybrid cloud infrastructure that helps manufacturers simplify operational technology, increase efficiency and scalability, and reduce needed resources and costs.
With their FactoryStack™ Platform, 4IR combines factory floor know-how and modern software architectures to give you same-day adoption of cloud technologies without needing to worry about data loss or a poor user experience if plant-level internet connectivity goes down.
Based on FactoryStack™ and created for life science and pharmaceutical manufacturers, PharmaStack™ helps you develop fully 21 CFR Part 11-compliant solutions using enhanced functional building blocks, data integrity policies, and documentation.
groov EPIC, groov RIO, and Ignition software from Inductive Automation have all become vital parts of these complete cloud solutions. When asked why they chose groov edge devices for the hardware component, 4IR CTO Joe Dolivo explained: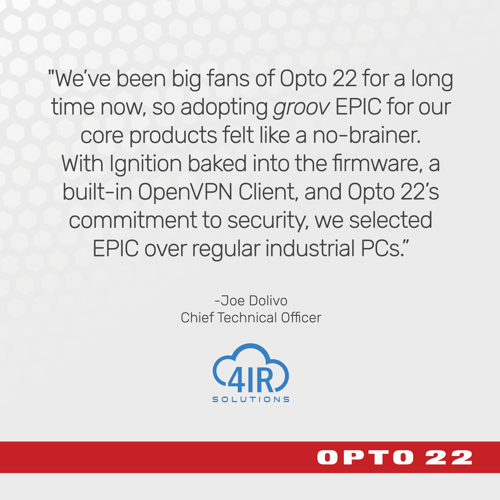 And we're glad to call them our newest IoT certified OptoPartner! You can get more details in the 4IR press release.
All IoT Certified OptoPartners have:
Combined skills and experience in both Information Technology (IT) and automation (Operations Technology, OT)

Successfully developed IoT applications for other customers

Demonstrated to Opto 22 engineers that they can provide customers the ideal solutions for their IoT goals
See our complete list of OptoPartners and find one in your area to help you get started with your next project or system upgrade.
Think you'd like to join the OptoPartner program? Get more details or send your inquiry to optopartner@opto22.com.