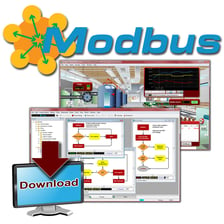 Whether your Modbus equipment uses Serial RTU, Serial ASCII, or Modbus/TCP protocol, our latest Modbus Integration Kit has you covered.
The kit makes it easier to integrate your Modbus equipment with SNAP PAC controllers running PAC Control strategies.
You can use the SNAP PAC as either a Modbus master or slave. The kit includes sample flowcharts and subroutines for both master and slave communications.
This kit has been completely reworked, and you'll find it much easier to use than older kits.
To get started, see form 2164, the Modbus Integration Kit for PAC Control Technical Note. You'll find complete documentation for using the kit right inside the kit's subroutines.