Product Announcement: New groov RIO EMU (energy monitoring unit)
Opto 22 has exciting product news to announce this week! Introducing the latest offering in our groov RIO product line: groov RIO EMU (energy monitoring unit), GRV-R7-I1VAPM-3.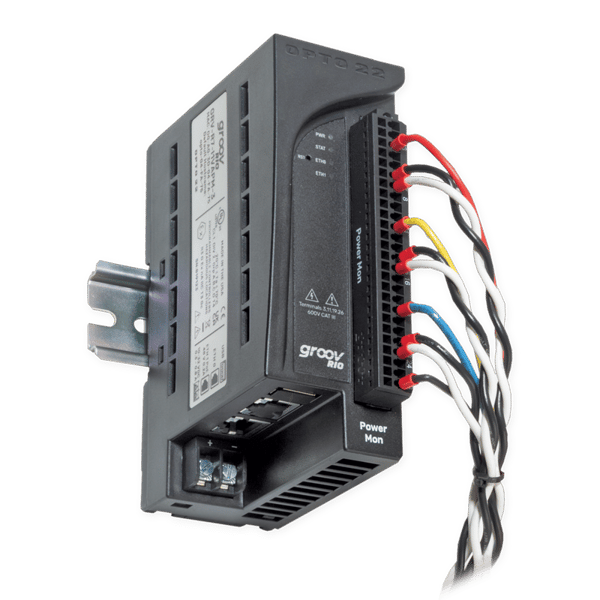 Edge I/O for Power
The groov RIO series brings you a new kind of I/O product—edge I/O. It doesn't require a PLC, PAC, or IPC to communicate data to other systems. Instead, this intelligent, distributed I/O includes security, data processing, and networking to meet the needs of IIoT projects independently.
The new groov RIO energy monitoring unit (EMU) brings the same level of connectivity to projects that require energy data acquisition and communication.
Look what you can do with RIO EMU:
Monitor category III 3-phase AC power up to 600 V in Delta or Wye configurations
Capture 18 data values per phase—voltage, current, true power, power factor, and frequency—plus 10 3-phase totals
Measure power and energy at the point of use to detect downtime predictors like high power consumption
Easily share real-time data with analytics software, databases, and dashboards using the built-in MQTT/Sparkplug client
Secure the system and data with user accounts, configurable firewall, TLS certificates, HTTPS, and VPN client
Quickly power for standalone operation with 802.3af PoE Class 0 switches or use 10-32 VDC line power
Available to order now! Get product details and specs or download the data sheet.
Coming soon...
Stay tuned to the OptoBlog as Ben Orchard will be sharing more application scenarios and how-to info on this highly-anticipated energy monitoring unit!