Learn how edge I/O creates a simpler way to meet the needs of today's industrial internet of things (IIoT) applications.
In an era of increasing connectivity and technical capabilities, it seems like simple ideas should be simple to achieve. But IIoT projects, even simple ones, are still expensive, demand special skills, and involve many steps. Our latest white paper,
I/O for the IIoT, addresses these challenges and outlines suggestions to achieve simplicity, security and cost-effectiveness for your IIoT projects.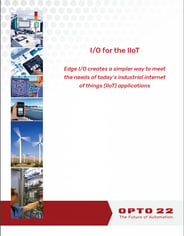 The white paper introduces you to edge I/O technology and outlines three scenarios where it provides a clear solution for improving I/O connectivity: logging temperature data, measuring equipment on-time, and controlling basic devices. You'll see how these go from complicated, costly projects to simple applications.

Learn about what makes edge I/O the ideal problem-solver:
Easy to specify

Industrial and compact

Web-based configuration

Embedded software

Built-in security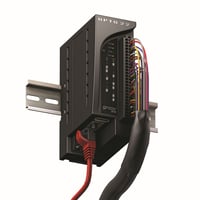 Download the white paper now to get more details about these important features and how they can help you address your device and equipment integration needs. You'll also see why Opto 22's groov RIO® is emerging as the leading edge I/O product in the industry today.
Do you have a simple idea you'd like to realize without the complexity and cost of a typical IIoT project? Take a look at edge I/O products like groov RIO to see how they can do the job for you.