Cost-effective automated reconciliation for petroleum distribution terminals (PDTs) improves safety and accounting.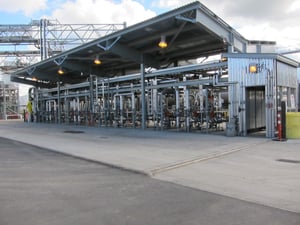 Meet Blendtech, a division of PT Industrial Electric and supplier of Terminal Automation Systems (TAS). A TAS is commonly used to automate the processes at petroleum distribution terminals to keep them running efficiently and in compliance with government regulations.
When the American Petroleum Institute (API) introduced updates to API Standard 2350, "Overfill Protection for Storage Tanks in Petroleum Facilities," Blendtech's customer needed help to comply. The updated standard significantly changed the way that tank receipts are handled, requiring formal processes for managing inventory.
At the time, the customer used a labor-intensive verification process. To comply, they would either have to hire more personnel or expand infrastructure, costing hundreds of thousands of dollars.
Blendtech found an alternate EPIC solution. Read the case study to learn how their engineers:
Bridged the OT/IT gap by bringing data from field PLCs to the TAS
Established a secure connection between the corporate and control networks
Used Node-RED to build a custom data processing interface for the TAS
Moved data into the site historian for required archives
Designed a mobile HMI for controller and network health monitoring