Watch Inductive Automation's recent webinar to see how and why your business is ready for its digital transformation.
Did you miss last week's webinar? Or just need to review it again? Inductive Automation's Simple Steps for Enterprise Digital Transformation is now available for on-demand viewing, featuring Opto 22's groov EPIC and the soon-to-be-released
groov RIO as a platform for edge data collection and Ignition I/O.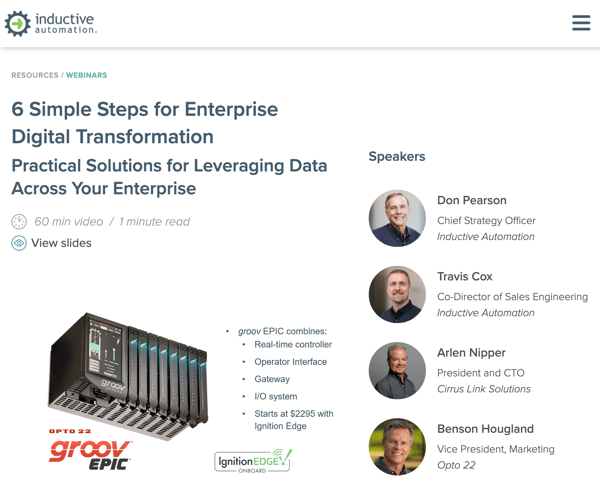 Are you ready for a real-world migration strategy to meet your industrial IoT goals? Do you need to maintain legacy systems, while introducing a modern approach to site integration? With the help of Inductive Automation's Ignition platform (included in groov EPIC), digital transformation can be a reality and can help you:
Reduce operating costs
Reduce unscheduled downtime
Improve asset performance
Optimize supply chains
Increase capacity
Increase employee engagement
The webinar also addresses how to overcome obstacles like:
Unclear migration paths
Expensive rip-and-replace solutions
Communication gaps between OT and IT systems
Vendor lock-in from proprietary systems
Balancing accessibility and security
Working with Cloud-based infrastructure
High start-up and maintenance costs
Presented in 6 easy steps along with live product demos of Ignition Perspective and groov RIO, you'll learn how these solutions can work for you. See how scalable IIoT is within your reach today. Watch and learn.