A new white paper published by Cirrus Link Solutions takes
a deep dive into comparing these two industrial IoT protocols.
A common challenge is happening on manufacturing floors, process plants, and remote equipment sites everywhere. How do we deliver process data to consumers across the enterprise? But the industry is still deciding on a standard tool set that can be used at the scale of the Industrial Internet of Things.
A new white paper from Cirrus Link, IIoT Protocols: Comparing OPC UA to MQTT, compares two options that are on opposite ends of the spectrum; the traditional approach vs the modern solution.
As an early adopter of both OPC and MQTT, Opto 22 has a long history with industrial communications and understands how these protocols can complement each other to enable digital transformation. That's why we include both as part of our family of groov industrial edge devices.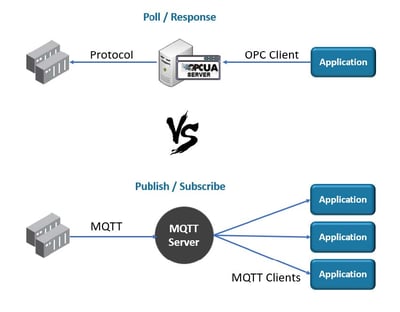 With contributions from Opto 22's Benson Hougland and Inductive Automation's Travis Cox, Cirrus Link's new white paper covers the history of OPC UA, a thorough explanation of MQTT with Sparkplug B, and use case scenarios for both. It explains the factors that should go into your decision of the protocol to use with your application such as:
Complexity
Data capacity
Network flexibility
Security
Cost
Vendor support
Multiple data consumers
You'll even see how OPC UA and MQTT can actually work together. If you're still looking for the best way to get data from your legacy systems and bring it into a modern architecture, you'll want to give this a read. It's time to bridge the OT/IT gap.