Here at Opto 22, we keep our ear to the ground on all things automation. When we heard the industry's demand for a versatile I/O package, we responded—thus, groov RIO was born. Since then, we've upped the ante with tools for onboard control (enter: Node-Red and Python) and more communication methodologies (hey there, MQTT, OPC UA, and Ignition).

And with our latest advancement, we've really done it: added a sophisticated real-time engine.
Opto 22's already ground-breaking compact IIoT-ready device with software-configurable I/O now has CODESYS, an IEC61131-3 compliant programming environment with all your favorite languages. Now, groov RIO is not only an I/O device—it's a full-on Edge PLC!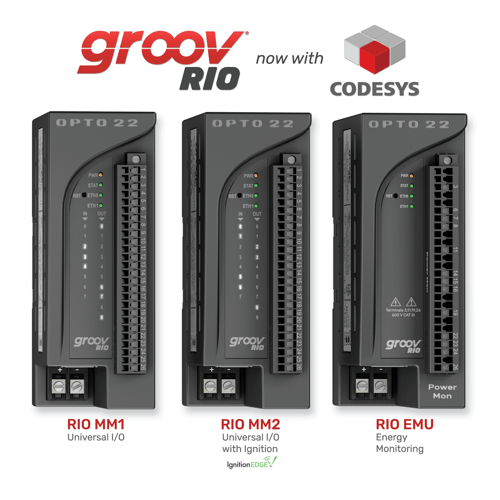 Why CODESYS on RIO?
Well, imagine having a small, inexpensive, PoE-powered device that is not only versatile in its I/O (over 200,000 unique software-configurable combinations) but is also able to handle complex real-time control of PLC tasks.

You thought you loved your groov RIO before, and now you've got even greater…


Programmability:

Ladder Diagram (LD), Structured Text (ST), and Function Block Diagram (FBD) are some of the more popular methods for PLC programming within

CODESYS

, a programming platform that adheres to the industry-standard programming languages in the IEC61131-3 specification and has access to all the groov RIO's I/O.



Communication:

From a comms standpoint, this is a slam-dunk. With groov RIO's existing support of modern IIoT interfaces—

like MQTT (SparkPlug 3.0 compliant), OPC UA, and a built-in RESTful API

—CODESYS provides quite the additional arsenal of communications inside a control engine with drivers for some of the most popular industry fieldbuses—Ethernet/IP, ProfiNET, and Modbus/TCP. Add that to CODESYS'

very own package of

IIoT Libraries

, and you have one of the most communication

-capable devices in industrial automation. Heck, your groov RIO can even

still support serial communication,

if you were worried!



Versatility:

Since groov RIO already has thousands of I/O options and Node-RED onboard (which can be

handy for deploying UIs

and

myriad other tasks

), the addition of the CODESYS

programming suite puts this little device on a whole new playing field. It's now an Edge Device, PLC, and HMI—

all in one affordable package.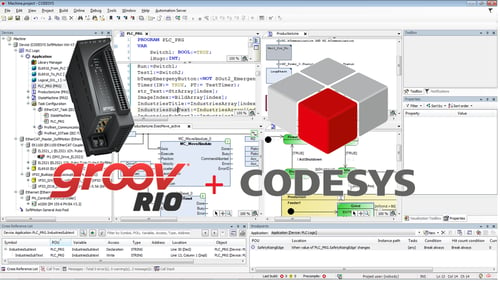 We know, you're itching to get started.
Here's how:
Get your groov RIO. If you need to purchase one, don't worry—the

MM1 model

is just $995. (Yes, it still has over

200,000 possible I/O configurations

.)

If you already have a

groov

RIO, lucky you! All existing RIO customers can

update to firmware 3.5.0

and gain this tremendous new feature.

Purchase the CODESYS license (

GROOV-LIC-CRE-RIO

) at a one-time cost of $100 from Opto 22 or an approved reseller.
Enable the CODESYS Controller on your device to unleash the power of a PLC on your groov RIO.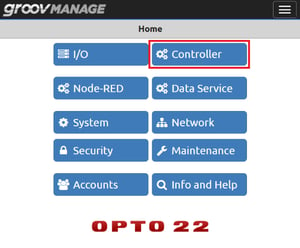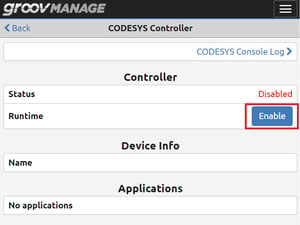 Interested in learning more about programming with CODESYS?
Check out these resources:
And again, don't forget to update your groov RIO to 3.5.0!


Keep calm
groov on
-Dan White