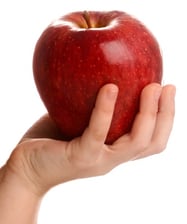 If you live just about anywhere in the U.S.A., you can probably thank California Controlled Atmosphere (CalCA) for some of the fresh fruits and vegetables you buy.
In fact, CalCA's industrial refrigeration systems for storing produce can be found throughout the world, reaching to India and China.
But how do you keep produce fresh before it ships to a local market? You have to hold it in precise environmental conditions, including:
Temperature
Humidity
Carbon dioxide levels
Nitrogen levels, and more
CalCA's engineers provide mechanical systems design, installation, and maintenance for these complex cooling and cold storage/freezer facilities.
Each facility is unique, depending on the fruit or vegetable stored and precise calculations for its storage. Even different varieties of apples or pears require different conditions. And quantities of produce can change rapidly based on harvests, so facilities have to expand or contract based on current needs.
Read our new case study for a look at how CalCA meets the flexibility and scalability requirements for a demanding industrial application—and how they found control products that won't become obsolete in a few years.