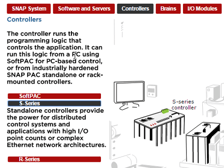 Choose the software, controllers, I/O, and more for your application, with help from our new interactive demo about SNAP PAC System components.
You'll find answers to questions like these:
What software is available for programming your system or using an HMI?
How about controllers: would a standalone PAC, a rack-mounted PAC, or a software-based PAC be best?
What's the difference between an EB brain and an SB brain?
What kinds of sensors and equipment connect to I/O?
For these and other questions, explore the SNAP PAC System Components demo for answers.
And remember, our experienced Pre-sales Engineers are happy to answer more detailed questions about your specific application. Call 1-800-321-6786 or 1+951-695-3000, or complete the online form.