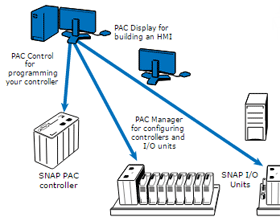 What do you get with the free PAC Project Basic automation software suite?
PAC Project Basic offers flowchart-based control programming plus HMI development and runtime. It's suited for industrial automation, remote monitoring, and data acquisition applications in any field.
PAC Project software is fully integrated with SNAP PAC controllers, brains, and I/O.
So will the Basic version do everything you need? In most cases it will. But for some applications you'll want to purchase PAC Project Professional with its extra capabilities.
This interactive demo answers your questions about PAC Project and compares the two suites. Just click and explore to find out:
Which components (like PAC Control or OptoDataLink) are included with each version
How PAC Project works with your SNAP PAC programmable automation controller and I/O units
How devices and databases on your network interact with PAC Project
Explore PAC Project Professional vs. PAC Project Basic.
This is just one of our animated demos you can explore to learn about automation basics as well as Opto 22 products. See all the demos and learn about sinking vs. sourcing, wired and wireless controllers, network options for your SNAP PAC System, and much more.